NATURAL SOLUTIONS FOR PAINFUL PERIODS
Magnesium is known as 'natures tranquiliser' helping to relax the entire body. Research consistently shows that magnesium can effectively support painful periods.
- Eat magnesium rich foods such as dark leafy greens, nuts, seeds, avocados, wholegrains and dark chocolate.
- Add Epsom salts to a hot bath. Epsom salts are rich in magnesium so as you bathe you will naturally soak up magnesium through the skin.
- Consider magnesium supplementation. Magnesium oil spray supplementation can be a particularly useful form of magnesium as you can spray this directly onto the source of pain.
2) LAVENDER ESSENTIAL OIL
Massaging the lower abdomen with calming lavender oil can offer significant relief for menstrual pain.
Make the ultimate pain-soothing remedy by combining the following recipe together before adding to your bath:
- 1 cup of Epsom salts
- 8-10 drops of lavender essential oil
- Half a tablespoon of jojoba or coconut oil (optional)
3) HEALTHY CHANGES
Lack of sleep, skipping meals, regularly consuming stimulants such as sugar, caffeine, alcohol and smoking have all been associated with painful periods. Making simple healthy changes can make a significant difference to the severity of pain you experience during your periods.
· Prioritise a good sleep routine
· Eat regular meals
· Limit your sugar intake
· Eat a large variety of plant foods
· Include anti-inflammatory herbs & spices in your diet (e.g. cinnamon, turmeric, ginger, cloves, garlic, cayenne, rosemary)
· Limit inflammatory foods such as red meat, dairy, processed food and refined sugar
· Drink herbal teas instead of regular tea and coffee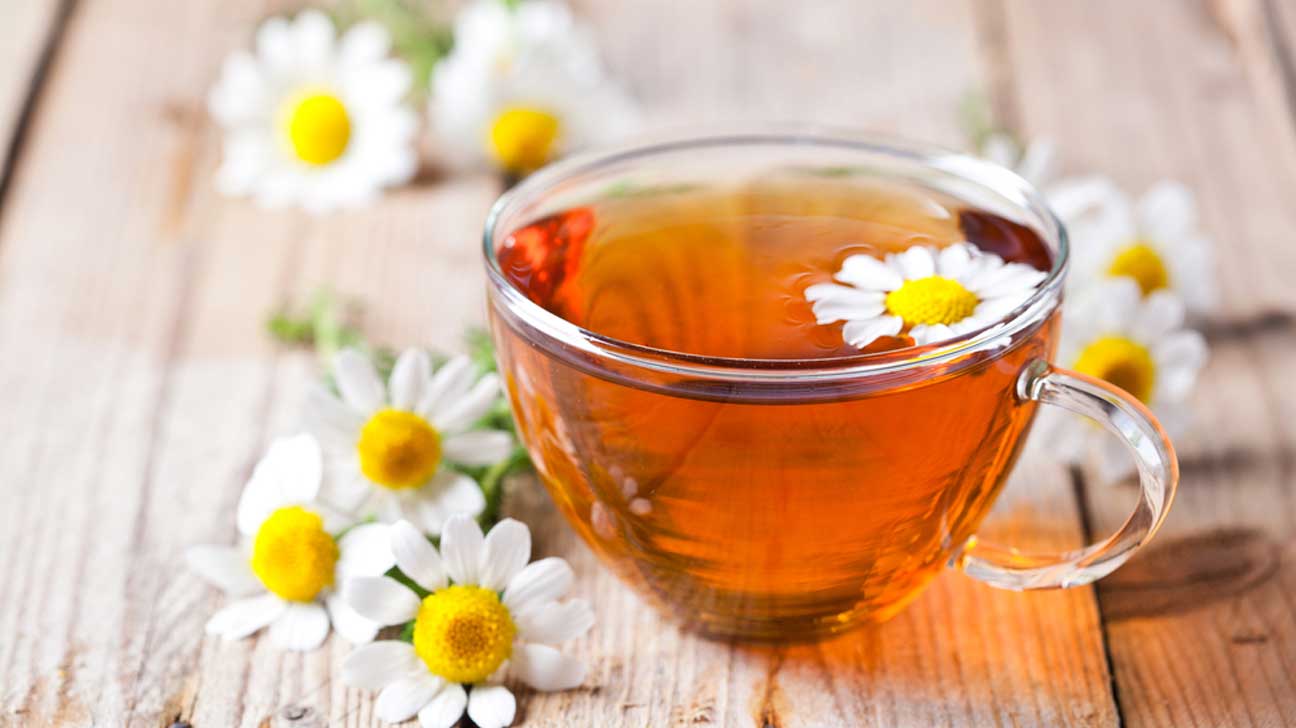 Chamomile tea may be effective for menstrual pain.
A study showed how drinking the tea increased levels of glycine, an amino acid which helps to relieve muscle spasms.
4) OMEGA 3
Omega 3 is an essential fatty acid that we need to obtain through food. Omega 3 follows anti-inflammatory pathways and research strongly supports omega 3 supplementation for painful periods. One study even concluded that fish oil was better than ibuprofen in reducing severe menstrual pain!
You can find omega 3 in oily fish, nuts, seeds and dark leafy greens. Fish oil or algal oil are good choices if you are considering omega 3 supplementation.
Did you know that a weekly yoga class could actually reduce menstrual cramps?
Although research is limited at this time, the few studies that have looked into this have been highly positive. One study found significant improvements in menstrual pain for the group who were practicing yoga for just 30 minutes twice a week compared to the control group who did not do any form of yoga during the 12 week study.
6) HEAT
Heat can be very effective for soothing period pain. On the first day of your period when the pain and cramps are at the peak try using a heat pack, curling up with a hot water bottle or having a hot bath.
7) VITEX AGNUS CASTUS
One of the most common causes of menstrual issues are hormone imbalances. A simple urine test can be extremely useful in assessing hormone levels as well as metabolic pathways giving a huge insight into causes of any hormone-related issues. Contact NFT to find out more.
Vitex agnus castus is a herb that supports the pituitary gland to naturally assist in the regulation of oestrogen and progesterone levels. Studies support Vitex agnus castus supplementation as an effective and well-tolerated treatment for menstrual issues including PMS and heavy, painful periods.
I do not recommend agnus castus if you are taking any form of hormonal contraceptive, fertility drugs, HRT or any other hormonal treatment or medication unless under the care of a registered and experienced practitioner.
RESEARCH / FURTHER READING
Parazzini, F., Di Martino, M. and Pellegrino, P., 2017. Magnesium in the gynecological practice: a literature review. Magnesium research, 30(1), pp.1-7. http://www.jle.com/fr/revues/mrh/e-docs/magnesium_in_the_gynecological_practice_a_literature_review_309489/article.phtml
Fathizadeh, N., Ebrahimi, E., Valiani, M., Tavakoli, N. and Yar, M.H., 2010. Evaluating the effect of magnesium and magnesium plus vitamin B6 supplement on the severity of premenstrual syndrome. Iranian journal of nursing and midwifery research, 15(Suppl1), p.401. https://www.ncbi.nlm.nih.gov/pmc/articles/PMC3208934/
Ou, M.C., Hsu, T.F., Lai, A.C., Lin, Y.T. and Lin, C.C., 2012. Pain relief assessment by aromatic essential oil massage on outpatients with primary dysmenorrhea: A randomized, double‐blind clinical trial. Journal of obstetrics and gynaecology research, 38(5), pp.817-822. http://onlinelibrary.wiley.com/doi/10.1111/j.1447-0756.2011.01802.x/full
Apay, S.E., Arslan, S., Akpinar, R.B. and Celebioglu, A., 2012. Effect of aromatherapy massage on dysmenorrhea in Turkish students. Pain management nursing, 13(4), pp.236-240. http://www.painmanagementnursing.org/article/S1524-9042(10)00067-6/abstract
Wu, C.C., Huang, M.Y., Kapoor, R., Chen, C.H. and Huang, Y.S., 2008. Metabolism of omega-6 polyunsaturated fatty acids in women with dysmenorrhea. Asia Pacific journal of clinical nutrition, 17(S1), pp.216-219. https://www.ncbi.nlm.nih.gov/pubmed/18296341
Zafari, M., Behmanesh, F. and Mohammadi, A.A., 2011. Comparison of the effect of fish oil and ibuprofen on treatment of severe pain in primary dysmenorrhea. Caspian journal of internal medicine, 2(3), p.279. https://www.ncbi.nlm.nih.gov/pmc/articles/PMC3770499/
Behboudi-Gandevani, S., Hariri, F.Z. and Moghaddam-Banaem, L., 2017. The effect of omega 3 fatty acid supplementation on premenstrual syndrome and health-related quality of life: a randomized clinical trial. Journal of Psychosomatic Obstetrics & Gynecology, pp.1-7. http://www.tandfonline.com/doi/abs/10.1080/0167482X.2017.1348496
Potur, D.C. and Kömürcü, N., 2014. The effects of local low-dose heat application on dysmenorrhea. Journal of pediatric and adolescent gynecology, 27(4), pp.216-221. http://www.jpagonline.org/article/S1083-3188(13)00335-5/abstract
Yonglitthipagon, P., Muansiangsai, S., Wongkhumngern, W., Donpunha, W., Chanavirut, R., Siritaratiwat, W., Mato, L., Eungpinichpong, W. and Janyacharoen, T., 2017. Effect of yoga on the menstrual pain, physical fitness, and quality of life of young women with primary dysmenorrhea. Journal of bodywork and movement therapies, 21(4), pp.840-846. https://www.ncbi.nlm.nih.gov/pubmed/29037637
Gagua, T., Tkeshelashvili, B. and Gagua, D., 2012. Primary dysmenorrhea: prevalence in adolescent population of Tbilisi, Georgia and risk factors. Journal of the Turkish German Gynecological Association, 13(3), p.162. https://www.ncbi.nlm.nih.gov/pmc/articles/PMC3939234/
Jenabi, E. and Ebrahimzadeh, S., 2010. Chamomile tea for relief of primary dysmenorrhea. Iranian Journal of Obstetrics, Gynecology and Infertility, 13(1), pp.39-42. https://www.cabdirect.org/cabdirect/abstract/20103382240
2005. Chamomile Tea: New Evidence Supports Health Benefits. American Chemical Society, Science Daily https://www.sciencedaily.com/releases/2005/01/050104112140.htm
Zamani, M., Neghab, N. and Torabian, S., 2012. Therapeutic effect of Vitex agnus castus in patients with premenstrual syndrome. Acta Medica Iranica, 50(2), p.101. https://www.ncbi.nlm.nih.gov/pubmed/22359078
The information provided on this site is intended for your general knowledge only and is not a substitute for professional medical advice or treatment for specific medical conditions. Always seek the advice of your GP or other qualified health care provider.