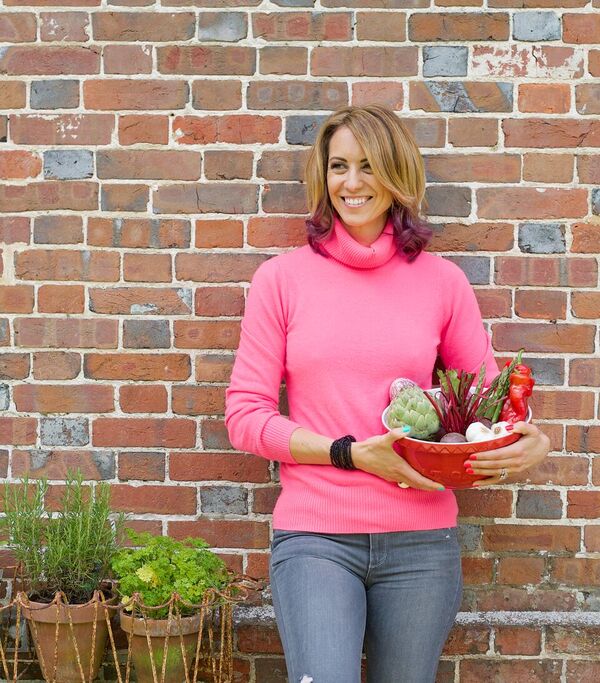 Carolyn Nicholas is a Natural Chef who is currently working alongside Adria Wu on Channel 4's Sunday Brunch.
CAROLYN NICHOLAS
Carolyn is a mum of 10 year old twins and has worked in the food industry for several years, having started a company that created one of the first cakes on the market using fruit & veg purees rather than sugar. The cupcakes were sold in Waitrose and also finalists in the 2014 UK Baking Awards for Product Innovation.
Today we talk to Carolyn about her time on Sunday Brunch before she shares with us one of her delicious natural recipes.
How long have you been working on Sunday Brunch?
I've been working with Adria Wu, a Natural Chef as well, since this past December.
What is your role?
Adria appears on Sunday Brunch roughly every 6 weeks or so. The team gets a theme in advance and then start to brainstorm our showtime menu. I've worked on her Canadian Apres Ski and Valentine's Day Strawberry theme. Because my speciality is desserts, I propose a few sweet treat ideas that can be redesigned to fit our Natural Chef guidelines. We then test our recipes at home in the weeks prior to the show. The day before the show, we head to Adria's house to prep, cook, photograph and finalise our recipes. On the Sunday, we meet at the studios by 07.30 to finish our prep, cook out the recipes and plate for the show. It's always fun to see who the celebrity guests are as well!
What has been the best part of working alongside Adria Wu?
Adria is a trained Le Cordon Bleu chef and owner of Maple&Co cafes in London. Working with her is always exciting as she can teach you a lot! She is very calm in the kitchen and I am so thankful I am able to learn from such a great woman chef! I love learning all the tricks of the trade and lots of different plating ideas. There's always a lot to learn.
Any funny, awkward or embarrassing moments or stories to tell?
Being American, I never really know many British celebrities or the famous straplines so I usually have to Google who is on the show!
What inspired you to become a natural chef?
Coming from a long line of Italian restaurant owners and commercial bakers, I grew up in a home environment that was all about cooking from scratch, with an emphasis on healthier eating. I was lucky that my mum was ahead of the curve in the kitchen and with nutrition, together we always wanted to be proper chefs. After moving to the UK from the US and becoming a mum myself, working behind the scenes in the food industry was an eye-opening experience. It was more about creating longer shelf-life products, chemicals to speed up food production and a pressure for quantity – not quality. Waitrose were fantastic to work with, but others – not so much. Soon after, my mum was diagnosed with Parkinson's and I knew I had to change gears and do something to help her, and to help teach my kids good food habits – that food IS medicine. That's when I came across the Natural Chef course in London. I knew it was for me.
It is fascinating to hear about your family background and how it has led you to where you are now. Coming from such a healthy background what do you find most challenging about food habits in the modern day world and its health implications?
The ready meal and convenience food culture we live in today and the impact that has on our children. Illness is skyrocketing yet we are given prescription after prescription rather than looking at the underlying issue and fixing it. That's why I love naturopathic medicine – it looks at the body as a whole. Food plays a major part in this puzzle and I want to help teach how to cook healthy, whole foods from scratch. You don't need a fancy kitchen or a lot of time, just some fresh ingredients! Trust me, your body will thank you for it!
What else would you like to do with your Natural Chef training?
I love recipe developing and practicing my food photography at home in my spare time. My kids have now also taken such an interest in cooking and helping me, we even plan our menu for the week together! I work in a local natural health clinic in West Sussex alongside of a Naturopath and have started seeing patients one to one as a Food & Kitchen Coach. The common phrase I hear is "I want to eat better, but I don't know how to cook". This is where I bridge that gap between practitioner and patient and help people to learn to love to cook.
Lemongrass Coconut Milk Pannacotta with Rhubarb Yuzu Puree & Dessert Furikake
Dairy Free, Gluten/Grain Free, Vegan, Vegetarian, Paleo
A dairy free version of the Italian classic. This light and refreshing dessert adds a seasonal flair with subtle lemongrass notes (an anti-inflammatory) rhubarb and yuzu flavours to cleanse the palate. Rhubarb is high in fibre and antioxidants such as quercetin. Yuzu is high in vitamin C and also in antioxidants. Coconut milk is high in lauric acid, which is antibacterial and can help to improve good cholesterol, and also contains electrolytes and good fats to nourish the gut. To add a bit of healthy texture, activated nuts and seeds in the form of my dessert furikake help to boost healthy fats and protein and give a little crunch.
Yield: 6 servings
INGREDIENTS
Pannacottas:
2 – 400ml tins of coconut milk (I use Waitrose own brand)
2 stalks fresh lemongrass, chopped
2 tbsp agar flakes or 2 tsp agar powder
50g honey or pure maple syrup (vegan)
pinch of fine Himalayan salt
Rhubarb Yuzu Puree:
400g rhubarb, chopped into 5cm chunks
1 tbsp water
pinch of fine Himalayan salt
50g pure maple syrup
2 tsp yuzu juice
¾ tsp xanthan gum, to thicken
Dessert Furikake:
400g mixed nuts
175g sunflower seeds
50g black sesame seeds
6 tsp fine Himalayan salt
200g rhubarb, thinly sliced
METHOD
1. At least two days in advance, soak the nuts and seeds in separate bowls of warm filtered water with 2 teaspoons of salt in each overnight, or at least 8 hours. Drain and rinse well. Dehydrate the nuts, seeds, and rhubarb on separate trays at 105-150F for approx. 12-24 hours, or until crunchy. Chop the nuts and lightly toast them in the oven if need be. Blitz the dehydrated rhubarb in a coffee grinder into a powder. Combine and store in an airtight glass jar.
2. In a large saucepan, pour in the coconut milk, chopped lemongrass and sprinkle on the agar flakes but DO NOT stir. Let sit for 5 minutes.
3. On medium low heat, bring the coconut milk to a gentle boil. Once simmering, stir the mixture with a wire whisk while continuing to cook for a further 4 minutes.
4. Turn off the heat. Add in the honey or maple syrup and salt. Whisk to combine. Pour the mixture through a sieve and into a jug for pouring. (At this stage, you can see if the agar has dissolved which is essential for setting – if it hasn't, put the saucepan back on the hob and bring to a gentle boil again and repeat).
5. Divide equally into each serving. Refrigerate until set, about 30 minutes.
6. Meanwhile, in a large saucepan add the rhubarb, water and remaining salt. Cook on low until soft, approx. 5-10 minutes.
7. In a Vitamix, combine the rhubarb, maple syrup and yuzu juice. Blitz for approx 10-20 seconds or until smooth and thick. Taste and add more yuzu or maple syrup if needed. Add the xanthan gum and blend once more. Let cool and refrigerate until chilled. Tip: I decant mine into a sqeezey bottle which makes it easier for plating.
8. To serve, garnish each portion with the puree and the furikake. Enjoy!
Notes: These can be made a day or two before. Cover with cling film and store in the refrigerator until serving. You can also try swapping out the lemongrass for crushed cardamom pods, a bit of matcha powder, or even raw cacao. Adjust your sweetness as desired.
Source: Carolyn Nicholas, Natural Chef
Allergens: nuts