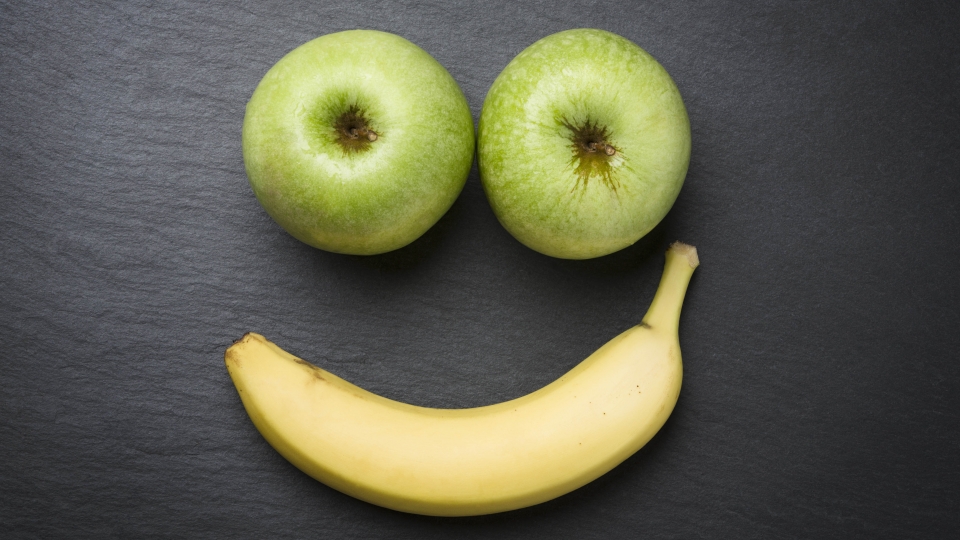 Did you know that nutrition can have a powerful influence on your mood?
7 TOP TIPS TO HELP BOOST YOUR MOOD
1) MORE PROTEIN
Protein is made up of amino acids, which make up the neurotransmitters (brain chemicals) that have a significant influence on your mood. Good sources of protein include fish, meat, dairy products, tempeh, tofu, nuts, seeds, beans and pulses.
2) LESS SUGAR
A high sugar intake can contribute to a blood sugar rollercoaster, consequently having a terrible impact on your mood!
- Limit sugary foods such as biscuits, cakes, chocolates, desserts, breakfast cereals, snack bars and sugary drinks.
- Switch white bread, white rice and white pasta to wholegrain (brown) options and quinoa.
- Opt for protein-rich snacks such as a handful of nuts + seeds, greek yoghurt + berries or vegetable sticks + hummus.
Consider that 60% of the brain is made up of fats, one of the most abundant being the omega 3 fatty acid DHA! Research suggests omega 3 is important for the brain, mood, memory and could even help in the treatment of depression.
Good sources of omega 3 include oily fish, nuts & seeds.
Oily fish is a direct source of the omega 3 fatty acids EPA and DHA, which have important health benefits. If you do not eat fish it is a good idea to consider omega 3 supplementation. Algal supplementation is a good plant based alternative to fish oil supplementation.
4) REGULAR MEALS & SNACKS
Skipping meals can cause your blood sugar levels to drop resulting in irritability and mood swings. Aim for 3 main meals and 2-3 small protein-rich snacks to help keep your blood sugar levels balanced.
5) HYDRATION
Many people underestimate how terrible you can feel when even slightly dehydrated. The recommended fluid intake for adults is approximately 1.5-2 litres of fluids daily. Aim to get most of your fluids from water and herbal teas.
Limiting caffeine, alcohol, juice and fizzy drinks can be really beneficial for your mood and wellbeing.
6) GUT HEALTH
Have you ever wondered why you have an unhappy stomach when you are stressed or down? Your mind and gut are closely connected. In fact over 90% of the 'feel good' neurotransmitter serotonin is found in the gut. An unhealthy gut can have a significant effect on your mood (and vice versa) !
If you have digestive issues talk to a nutritional practitioner about how we can help, or check out our gut reboot programme!
7) LOTS OF PLANT FOODS
Eating a wide variety of vegetables and fruits helps us to obtain important nutrients such as vitamin & minerals that we need to feel at our best. In fact new research suggests that '5 portions of fruit & veg is good but 10 portions is better'!
Aim to eat lots of vegetables (especially leafy greens like broccoli) whilst aiming for approximately 2 portions of fruit in order to keep your sugar intake down!
 
REFERENCES / FURTHER READING
Fish & Seafood Guidelines NHS
http://www.nhs.uk/Livewell/Goodfood/Pages/fish-shellfish.aspx
The Association of UK Dietitians. Food Fact Sheet 'Fluids'.
https://www.bda.uk.com/foodfacts/fluid.pdf
Deacon, Gelinda, et al. "Omega 3 polyunsaturated fatty acids and the treatment of depression." Critical reviews in food science and nutrition 57.1 (2017): 212-223.
http://www.tandfonline.com/doi/abs/10.1080/10408398.2013.876959
Dyall, Simon C. "Long-chain omega-3 fatty acids and the brain: a review of the independent and shared effects of EPA, DPA and DHA." Frontiers in aging neuroscience 7 (2015).
https://www.ncbi.nlm.nih.gov/pmc/articles/PMC4404917/
Breymeyer KL, Lampe JW, McGregor BA, Neuhouser ML. Subjective mood and energy levels of healthy weight and overweight/obese healthy adults on high-and low-glycemic load experimental diets. Appetite. 2016 Dec 1;107:253-9.
http://www.sciencedirect.com/science/article/pii/S0195666316303221
Foster, Jane A., Linda Rinaman, and John F. Cryan. "Stress & the gut-brain axis: Regulation by the microbiome." Neurobiology of Stress (2017).
http://www.sciencedirect.com/science/article/pii/S2352289516300509
Kim, Doe-Young, and Michael Camilleri. "Serotonin: a mediator of the brain-gut connection." The American journal of gastroenterology 95.10 (2000): 2698.
https://search.proquest.com/openview/0913f5f1ab00bb75672e259937367f88/1?pq-origsite=gscholar&cbl=2041977